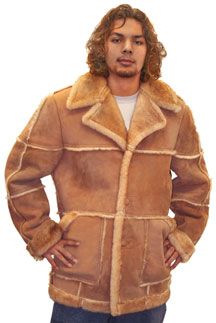 The Marlboro Sheepskin Coat
is made of soft jungle tan sueded leather with the fur still attached.
It is warm yet comfortable because the fur insulates you against the cold and feels nice to the touch. The Marlboro is made for the outdoors. The leather is thick and sueded on the outside in a mottled pattern made not to show soil. The fur is still attached to the hides and is a tan shade that is tipped a darker color on the edges. The hides are overlapped in a double stitch that allows the fur to peak out at the seams. This helps the jacket not to show or collect soil and gives a rustic mountain or western appearance. Be prepared for winter by adding the Marlboro to your wardrobe!